A Guide to Abaya Care: Fulproof Ways to Take Proper Care of Your Abaya
Posted by AYESHA KHAN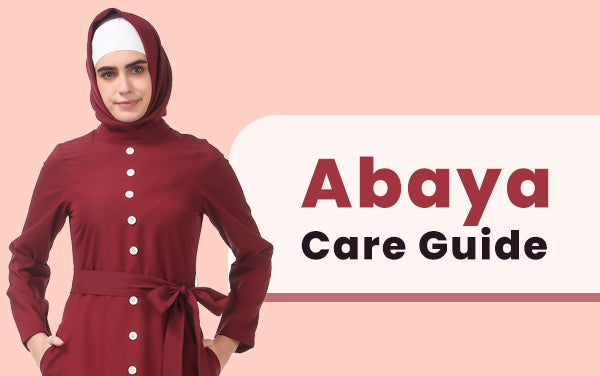 Everyday dresses tend to be worn out easily and rapidly. Abaya being traditionally the popular dress of Islamic fashion for women, they wear it every day. Consequently, the more you wear a dress the more washing and drying it requires. Therefore, we have gathered some fail-proof ways as a guide to take proper care of your abayas. Be it washing, drying, or stacking, we are going to discuss it all.
Refer to the label for caring instructions of your abaya
Nida, georgette, cotton, crepe, silk, and others are some common fabrics used to make abayas. Most probably your abayas would be made of these fabrics only. Besides fabric, every abaya is made differently as some might have embellishments some won't hence, they all need a different type of care.
The best way to figure out what type of care your abayas need is to check their labels. It may have clear instructions like Cold Machine Wash, Do Not Bleach, Iron Low Heat, etc. or merely laundry symbols on it. In fact, the chances are high that you will find something like figure 1 as labels attached to your abayas. If you don't find clear instructions refer to figure 2 to learn what laundry symbols mean.
figure 1
As we mentioned above that every fabric has its washing instructions so when you know which fabric your abaya is made of, you should be able to find out easily and the appropriate way to take care of your abaya.
If you have any doubt, go for dry-cleaning as it is suitable for most types of fabrics. Abayas with embellishment usually require dry-cleaning as hand-washing them or washing them in a machine would completely ruin your abaya. You don't want this to happen to your favorite abaya right? Don't forget to read the instructions.
figure 2
How to wash your abaya?
Once you have figured out whether your abaya requires hand wash or machine wash, the next step would be known to do it perfectly.
Instructions for Machine washing your abaya
It is a common practice to separate like color fabrics when washing in a machine to ensure your dresses do not discolor or end up ruining other dresses. Some fabric needs to be washed in warm water whereas most clothes are washed in normal cold water. Abayas are delicate clothing therefore, even your washing machine should be on a delicate cycle when you are machine washing your abaya. Secondly, you should never use over hot water as your abayas will end up getting damaged. The stitches might shrink, loosen up, or get discolored.
Now that you know how to wash your abayas in a machine, let's move on to handwashing your abayas. Handwash is not as harsh as machine wash therefore, many types of abayas can be hand washed as ordinary clothes. There are some basic things to keep in mind when you are putting your abaya for handwash:
Soak your abaya in water just 10 minutes before washing. You should soak it for more than 10 minutes because it may discolor or damage the fabric.

Coldwater is appropriate yet you must check the dress label. If your abaya label says it otherwise to use warm water, go for it.

Don't use any hard or soft cleaning brush to rub on your clothes. It might make your washing easy but it always damages the fabric. You will start noticing wrinkles on your clothes.

Don't rub on embroidered parts of your abaya as you have to be delicate with the abaya.
What detergents to use for washing your abayas?
First and foremost, you must always remember abayas are delicate you should never use hard detergent to wash them. There are different types of detergents available therefore, you must always pick mild detergents for washing the delicate fabrics of your abayas. On the other hand, when you are washing dark color abayas, try to use detergents which are especially suitable for dark color fabrics to prevent any discoloration.
Inside out wash of Abayas
While this rule applies to all types of clothes, abayas should not be treated differently. Wash your abayas inside out to prevent damages to the textures of the fabric.
How to dry your Abaya after wash?
In all circumstances, you should always avoid drying it in a machine. Hot dry is never good as you will end up exposing your abaya to extreme heat which will might further shrink the fabric. Eventually, it will also lose colors. Go for air dry after you have wrung it. Don't squeeze, twist, or knead them too much to wrench out water. This might stretch the fabric and the stitches might get lose. We do not recommend drying your abaya in direct sunlight as it poses a risk of discoloration.
How to iron or steam your Abaya?
Low heat setting is the best when you are trying to iron or steam your abaya after it has dried up. Inside out ironing is recommended to avoid exposing the fabric to extreme heat, especially if your abaya is embellished with sequin, thread, beads, etc.
How to store abayas after wash and ironing?
We know that you don't toss your abaya in the wardrobe to stack them directly as one should never do so. Don't hang them either on wire hangers or hangers made with thin plastic because they will ruin the shape of your abaya. Use velvet hanger or felt hangers to hang them properly without losing shape. They won't require steaming of ironing again when you are taking them out to wear.
Since now we have covered, how to machine wash, handwash, dry, iron, and even store your abayas for all the care your delicate abayas need. If you follow this guide next time when you are taking your abaya out to wear, they will be ready to make you glamourous. The best of modest beauty you can be in this stunning and most popular Islamic clothing dress for women.
Reviews (1 comment) Collection 2019 Sale 70% Off Title for image