Want Your Hijabs to Last Long? Read this to know-how!
Posted by AYESHA KHAN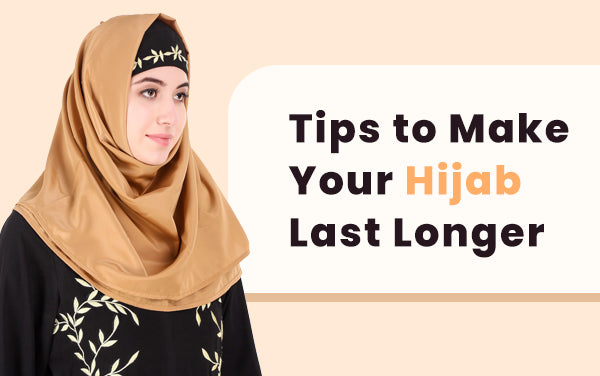 Ever wondered how some hijabs last for years? You might have come across your friends adorning the same hijab on multiple occasions throughout the years. They still look new and gorgeous. While there are no specific secrets hiding from you but it's just that the long-lasting hijabs are taken good care of. We receive these queries often on how to take good care of hijabs. Therefore, this particular post is all about taking care of your hijab.
This guide on taking good care of your hijab covers the following aspects:
Safety of your hijab
How to handwash or wash your hijab in a machine?
How to dry your hijab?
Ironing your hijab, the right way!
How to store your hijab?
Bonus tips for your Hijab
Before we begin on to talk about how you should wash your hijab, we want to bring some significant points under your consideration. It is obvious that using hijab also requires using accessories to fasten them properly. These accessories could be multiple pins and different types of clips or brooches.
Safety of your hijab
1. Usage of Rusted Accessories on your Hijab
Never use rusted pins or clips for fastening your hijab. It can easily make irreversible damage to your hijab. To be honest, it might totally tear down the hijab which is the last thing you would want in this world. Discard any rusted pins, clips, or brooches because they are dangerous for you as well as your hijab and any other type of clothes.
2. Remove all Accessories from your Hijab before putting them for wash
If you are already taking care of point one with caution, it brings us to the next point. It is common that we might toss hijab with pins, clips, or brooches to wash. Never do that. You must always check your hijab properly to see whether you have removed all accessories from it or not before putting them to wash. It might happen because after you reach home after a long tiring day, you end up taking off the hijab in hurry and later forget to take them out at all. Once you put them to wash without removing those accessories it will rust and even leave stains on your hijab. Stains of rust is almost impossible to remove from fabrics.
3. Quickly treat stains as soon as you notice them
Hijabs are prone to get stains to be it of sunscreen, cosmetics, food, drinks, or merely sweat. Since hijab is a part of an everyday outfit which you wear for day long, it is quite possible to get stains on it. Whether you are wearing it to work, outing, dinner, or a party, when you wear it for the whole day and do activities too there is a high chance that it will get stains. Therefore, you should try to wash the stains as soon as possible. The sooner you act the better chance you have to get rid of those scars off your hijab. You can just wash the affected area rather than putting the whole hijab for the wash. We know when you are outside, you can't put them immediately for washing. Therefore, use a piece of paper tissue or toilet paper to dab on the spot to remove the stain as much as possible.
How to wash your Hijab?
There are three ways you can wash your hijab, manually handwashing them, machine wash, or dry cleaning. Frankly, the best and suitable method depends on the type of fabric your hijab is made of. When you buy your hijab, you can check the fabric type. You can figure it out yourself too. Silk and other expensive hijab types are safe only when you select the dry-cleaning option however common fabrics such as cotton can be easily hand washed or machine wash. If your hijab came with a laundry label, don't forget to check it to see the washing instructions.
1. How to handwash your hijab?
Handwashing hijabs is as easy as washing any other clothes. Use cold water to soak them and ensure not to soak them for a long time as 10 minutes of soaking is enough. The next thing you should keep in mind is not to rub hard on any delicate parts like if your hijab has embroidery or embellishments of any kind. Never use a wash brush on it.
2. How to machine wash your hijab?
When you are tossing your hijab for machine wash, try to use a mesh bag. Keep your hijab in a mesh bag and then put it in the machine to avoid unnecessary creases or damage. You don't need to use warm or hot water to wash. Also, don't load too much of clothes into the machine when you are washing hijab in the same cycle. Always use a delicate wash cycle in the machine for the longevity of your hijab.
Common precautions to be aware of when washing your hijab:
Don't mix colors! Separate like colors when you are putting hijab for the wash. You should wash light color hijabs and dark color hijabs separately
Use mild detergents for washing your hijab
Never use bleach to wash your hijab or any stains on them
How to dry your hijab?
After washing your hijab, it's time to dry them. We think it is ok to wring them to squeeze water and detergent out of it. Or when you are machine washing them, putting them in the hot-dry cycle. However, we never recommend you to go for any of these options. So, how to actually dry them?
The best way to go ahead with drying them is to softly squeeze your hijab to get rid of excess water after a wash. You can hang them straight to air dry them. Do not dry them in direct sunlight because ultimately it might end up losing its color. If you want your hijab to last long as new as possible, it is important that they don't lose their original color or fade away even if you have to follow a slow drying process.
How to iron your hijab?
Although most hijabs won't require ironing or steaming if you dry them properly. If you have to, use mild temperature i.e., iron them on low heat settings to prevent any damage to the fabric. Hijabs are made of very delicate fabric so that they feel soft around your head and face when you drape them fastening around your head.
If your hijab requires ironing, do it on both sides to retain its shine. Alternatively, select fabrics that don't require ironing as there are many such good quality hijabs available in the market.
How to store your hijab to keep it safe?
It is always a good idea to store them in a dry and clean space by folding them rather than hanging on a rod or any type of hangers. The drawers of your dresser are the best place to store them to avoid dust accumulation on them. The drier and cleaner place you have the cleaner and fresher your hijab will be to last long. Moreover, remember that you wrap it around your head and face therefore, it must always be clean.
Rolling your hijab rather than folding avoids permanent creases however you have to be a little careful when you are doing so. If you roll them in hurry you might end up finding unnecessary creases in the middle of the hijab. You can also choose to store them in a resealable garments bag before storing them but avoid stacking them under too many clothes as due to pressure it will get creases.
Bonus tips for your hijab and its longevity!
A safety pin is one of the common accessories used to fasten the hijab. Unfortunately, they tend to rust and get stuck in the hijab hence, be careful when you are trying to remove it as they might tear your hijab or leave a big hole in it.
Since hijabs are made of soft fabric, you might see threads being pulled easily out of it. If you notice such a thing happening to your hijab, try to gently smoothen that area to bring them back in shape and avoid the further pull of the thread. This process becomes easy when you spread the hijab on a flat surface, and use a toothpick or a needle to flatten the pulled thread. It will certainly help you bring back the thread in place.
It is obvious that hijabis face the issue of lint balls or fuzzballs on hijab due to its soft fabric and regular use, you can use a lint roller or just shave them off carefully using a razor. Doing this will make your fabric look lint-free.
Reviews (1 comment) Collection 2019 Sale 70% Off Title for image