How to style an Abaya?
Posted by SHAHZEB KHAN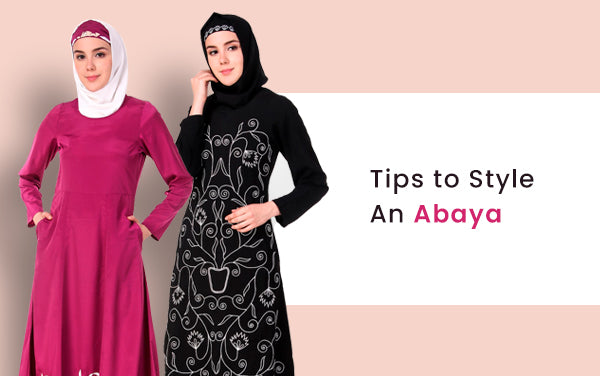 Being the most popular as well as the common everyday outfit Muslim women like to adorn, different Abaya variants are available in stores today for you to buy. However, you need to make the right decisions and choices to ensure they suit your personal need like any other dresses do. Everything matters when you are picking any abaya, be it color, length, or style. They all match up together with your body shape and skin tone to express your excellent beauty.
LENGTH AND SIZE OF ABAYA – DON'T LET IT OVERPOWER YOU!
Length of Abaya
We have seen that some women would wear abayas that are so long that they start sweeping the floor. You should never make such a mistake. Your abaya should always be modest and to ensure that it must always be in the right length to cover your feet and not longer than that. If your abaya is longer in length but it fits perfectly around your shoulder and rest of the body, you can get it altered to perfect its length at the right height. Hence, don't become a sweeping beauty just because you like an abaya so much.
Sleeve's Length
In many cases, you might find the sleeves to be a little longer than the actual length of your hands. At first instance, you might go for getting it altered but if the sleeves are lose a bit you can try folding the sleeves up to your wrist. If you are wearing a full-sleeves shirt inside, you can fold it too with the sleeves of the abaya. It will reveal the shirt from inside and give a different look altogether. You can always match your shirt and abaya for a perfect contrast like a polka-dot shirt inside abaya.
Main Size of the Abaya
We always recommend you buy abaya only after checking the measurement guide. Most good websites that sell abaya like mybatua.com provides a size guide on every product page. Although we assume that most of you try them first before buying when you are shopping from a physical store. Never pick a small abaya just because your size isn't available and you think you can squeeze in yourself into it to fit. Remember that abaya's primary focus is to provide you modest clothing and that can only happen if you pick the correct size. You risk making your body bulges prominently by trying to fit in small abayas. You can also check our previous article to check how to take your body measurements to pick the right size of abaya that fits well for your body shape.
EXCESSIVE LAYERS
Layers of Clothing
Abaya is an overgarment but that doesn't mean you should be wearing too many clothes inside to fit into any specific abaya which is flowy and loose. You can figure that out when you look at your shoulders, if your shoulders have bulges of folded fabric that you are wearing inside you should reconsider whether you want to wear that or not. Every dress is made to fit us perfectly therefore, you must pick an abaya which is modest as well as rightly fits you.
Style with Belt
A belt is an accessory that is usually undervalued when they are put in combination with an abaya. There are numerous stylish belts that will enhance the beauty of your abaya. They potentially make you look slimmer and sleeker. Next time when you are surfing for accessories do consider buying some beautiful variants of belts. They can be a leather belt, metallic belt, or just made with fabric that you can tie around your waist. You might want to pick an embellished belt with pearls and stones for a special look when you are getting ready wearing a party abaya. Together with a belt, your flowy and little oversize abaya can also be stunning hence no unnecessary layers inside. Be free and be beautiful.
WEAR AS PER THE OCCASION & SEASON
Where you are going?
Always keep a check on when and where you are going to wear your abaya. This is the most important part of styling when you are selecting an abaya to wear. Are you going to work, for a casual meeting, shopping, outing, dinner, wedding, and whether or not what you have selected is going to suit that occasion? Ask this to yourself. This will help you just make the right choice. Like you should never wear a flashy color or the one with prominent embellishments when you are going to work. On the other hand, when you are going to a party, wedding, or celebrations of any kind, you can pick-up net abaya or abaya with embellishments. For casual hangouts and outings, you can pick printed abayas with vibrant colors. Without the need to mention it, when you are going for prayers the most suitable abaya would be a white color which is also loose around you. Keeping this in mind you will always make yourself look gracious for any occasion.
Perfect Abaya according to Season
During summers we all want our dress to be extra comfortable so that we keep breathing even in the hottest and most humid weather. To do so, you should pick a fabric like cotton, silk, net, or any other light fabric. Avoid selecting dark shades to wear during summers as they will make you extra sweaty. Lighter shades like beige, cream colors, peach, etc. would be a nice choice. Winters are the best time to go for woolen, denim abayas, and other heavy fabrics when you need extra warmth. The darker shades like black, indigo, violet-red, etc. are the right colors to pick. Doing so you can conceal the extra layer even if you have to wear for the warmth.
CLASSY OVERY CRAFTY
You might find crafted abayas embellished with embroidery, stones, pearls, etc. to be appealing however, not all of them are suited always. Your aim should be to look classy rather than crafty. When you have to wear these embellished abayas like for weddings or parties, you must see how well the embellishment has been crafted. Oddly placed stones or pearls make them look poor.
We have covered most of the guides for this article therefore we cannot go without mentioning the matching accessories. Yeah, you must match up your abaya with the right kind of hijab, purse, and sandals. Keeping the above points in mind, you can style yourself wearing an abaya and become a fashionista. Check out the latest arrival of abayas on mybatua to update your wardrobe collection. Repeatedly wearing the same abaya over and over again makes them fade their color and you must always avoid that. If you notice such a thing happening to your abaya, it's time to buy a new one! Collection 2019 Sale 70% Off Title for image