Ultimate Guide to Buying Perfect Abaya Online : Essential Tips
Posted by AYESHA KHAN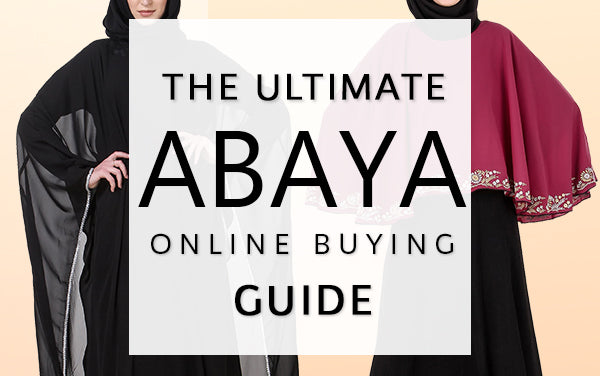 Let's be honest! Shopping can be a very hectic experience especially when your fashion is pretty unique. Why unique? Because Abaya is a unique Islamic outfit coming way back from centuries in the past! Its uniqueness is embedded into the deeply rooted and respected Islamic culture. You might know it as Burkha or Chador. While the Abaya fashion is seen commonly adorned by women in Asia, Middle East, Africa etc., you may find it in different shapes, styles, cuts, colors, and embellishments but traditionally it is black.
Abaya has been adapted by many fashion designers throughout the fashion industry across countries. This is one of the reasons why the outfit has changed and evolved—to suit the geographical climate, fashion, as well as the culture. In this article, we are going to cover all the basics and significant aspects of buying Abaya so that next time you are able to pick the right fit, fabric, size, style, and color.
Landing on the right website to shop!
Like everything else going digital, people now mostly shop online. Therefore, selecting the right website is as important as picking the right store to buy. Of course, nobody has time to take rounds of stores or to go through even dozens of websites to buy an elegant abaya.
When you are picking any online shopping site to buy the outfits of your choice, you must keep the following in mind:
1. The site is secure
Although almost every popular shopping sites are secured by their owners, however, you must see if the site URL has HTTPS or not. As shown in the picture above for HTTPS, you should be able to see a lock icon. HTTPS is a security protocol, in other words, a security certificate issued to websites to secure the connection on the internet. If you see HTTP in the URL that means it is not a secure website and we do not recommend you shop on it.
2. Website User-Interface
Good shopping sites care about the visitors hence, they simplify the design to make the whole site navigation fluid. You should be able to see clear options (as in the picture above), menu, categories of products and all listed items on your mobile device or laptop/pc.
3. Niche Oriented Products and Deals
Not everyone is perfect in everything, likewise not all shopping sites can be good at offering everything. As Abaya is an Islamic outfit, the shopping site you should look for and land on must have the expertise in Islamic Fashion outfits and offers a wide range of products, customization as well as regular deals on them. Abayas, Kaftan, Tunic, Hijab, Thobes etc. are some of the popular Muslim outfits that you can look for on the website to find out whether they have niche in the category or not.
4. Customer Reviews
The picture in reference above shows customer reviews of mybatua.com. You can look for customer reviews for the site you are on and the products it sells. You can either see it on google or on the actual shopping website. You may also directly head to the product pages to see what ratings and comments buyers are putting on the website. Through reviews, you can read the experience of other shoppers on that website.
5. Site Policies
It may sound a lot to look into however, it is always good to check pre-hand that whether the site offers free shipping or not, how many days it takes to ship, does it give a shipment tracking details, what are the return policies, product exchange policies, and others. You should be extremely careful buying from websites that don't offer exchange/return as you may end up totally wasting your money.
6. Payment Options
If you plan to shop online and get your shopping bag delivered at your doorstep with payment instruction like COD (Cash on delivery), be careful. Not all websites do that hence, you must check what all payment options the site has to offer. It should usually have debit/credit card payments, internet banking, COD, and other popular secure payment methods.
If the site you have landed on meets all aforesaid criteria, you are good to proceed with your online shopping endeavor.
How to select a perfect Abaya size at one go based on your body type?
Before jumping straight to the size, the first thing you need to know is your own body shape. As we don't want you to waste your time on the wrong shape of the Abaya which might be available in your size but doesn't fit your body the way you want it to be. Don't make a quick judgment while selecting Abaya just because maybe it is on sale or it looks extraordinary to you. So, here are the four types of body shape for you to figure out which one matches yours:
1. Pear-Shaped Body:
If you have slim arms and shoulder while most of your body weight is situated around your thighs, hips or buttocks, you belong to the pear-shaped body category. We recommend you buying Abayas that have tight sleeves with flare bottom from the waist like variants of Anarkali Abayas or Umbrella Abayas.
2. Apple-Shaped Body:
Body type that is heavy on top and mostly has features like the wide torso, broad shoulders, and a full bust, waist and upper back usually fall under Apple Shape body. If you have this type of body, go for loose-fitting Abayas or streamlined simple abayas to style up yourself. You should see categories like Butterfly Abaya, Front open Abayas or something from the range of workwear Abayas.
3. Hourglass Shaped Body:
Hourglass body types have a wide bust and hips, with a narrow waist as you can picture an hourglass. If you belong to this body shape, abayas that are loose fit at the top and have wider bottoms like Dubai Abayas are something you should go for to enhance your style while also maintaining modesty.
4. Rectangular Shaped Body:
It is considered as the most common body shape where women have balanced bust and hips. The shoulder and hips will be roughly of the same measurement and waist don't look like hourglass. Women with this body type can wear any shape abaya yet, we recommend you to avoid flared bottom over abayas which gives you a sleek look.
Islamic clothing, especially Abaya is an emblem of modest outfit and perfect size across lengths is the key factor behind. Now the question is how to select the right size when you are trying to buy Abaya online so that you don't end up wasting money or falling into the trap of exchanges?
We discussed body types and shapes above and now that you know it, knowing your measurements is important too.
You can pick any Abaya that you wear and you feel has the right size, spread it on a flat surface and using the measurement tape, take sizes of the following as shown in the picture below:
Bust: Using the tape measure across the armpit corners from front as shown in the image above. Double this measurement to get the size of your bust.
Waist: Take direct side to side measurement at the waistline and double it to get your waist size.
Hip: Use tape from side to side at the hip line, double it and you will have your hip size for buying the outfit.
Sleeve Length: Measure from the low point of shoulder where the sleeve seam begins to the bottom of the cuffs as shown in the image.
Full Length: Measure from the High Point of shoulder to the bottom hemline for full-length of Abaya.
Note: If you are buying Dubai Abaya online, we recommend you to take only measurements shown in the picture here.
Whether you have your measurements in centimeter (cm) or inches (in) but keeping it handy is always good to compare your size with the size of the outfit on screen. As we are talking about Abayas, a niche website ensures you are provided with measurement charts and therefore it must show its size details of bust, waist, hip, sleeves. If the size perfectly matches with the best-fit Abayas you already have, you can go ahead buy that without getting worried.
Some websites like mybatua.com provide custom sleeve-fitting too and that too free of cost. Free alteration can save time and hassle besides money.
Perfect length of Abaya based on your height! 
You might miss checking the length but here in this article we are talking about buying Abaya which is 'perfect'. Your height plays an important role as you don't want Abaya to be short in length. Long Abayas which exceeds your height can be altered to fit but if you end up buying a shorter one, it may unnecessarily expose your legs even though it may be perfect in size. Please refer to the length chart below for picking the right length of Abaya as per your body height.
Websites that want its customers to purchase the right fit, shows the detailed size & length chart for its customers to refer to.
The right style, design and collection of Abaya for you
Knowing when and where you are going to adorn the outfit, makes buying clothes a smooth experience! Abaya and hijab have exponential popularity growth, it is no more just a traditional outfit. It is one of the favorite outfits of Muslim women everywhere and they have carried it with pride on all occasions. The Abaya collection that you want to jump into must be according to the categories listed below:
1. Style 
More popularity means definitely more variations. Shopping stores are flooded with style types like Front Open Abayas, Hooded Abayas, Umbrella Abayas, Anarkali Abayas, Short Abayas, Coat Abayas, Flared Abayas, Batwing Abayas, Dubai Abayas, Moroccan Abayas etc. They are all available to suit different fashion needs of a fashionista like you. Pick any based on your body type, personal preferences, and where you are going to wear them.
2. Design
Design is another thing to consider in order to suit your personality. Your age, the kind of personality you are and every other thing that you do in your daily life can impact your choice. For example, if you are a working woman the designs you would like to pick should represent your formal and professional attitude while on the other hand if you are a housewife or a mother, you would like to pick a design that gives you extra flexibility and comfort. You may find Abayas that are heavily embellished for festivals, weddings, dinner parties etc. but selecting a bit of beautiful embroidery or a pattern can be enough to make you look mesmerizing for your everyday need.
3. Collection
Niche websites like mybatua.com offer a huge collection of Abayas segregated based on size, fabric, style, design, occasion, etc. Women of all ages like wearing Abayas therefore, it went ahead in understanding the need of its customers. You can find deals on plus body size, breastfeeding and nursing abayas too. If you are a bubbly person ready to adopt some latest printed abayas, floral abayas or fancy abayas in general, you can go for it as its variations can be suitable for leisure, casual wear and occasions like dinner parties etc. Please keep in mind that too much decoration on the Abaya can really take away its actual traditional essence and you should shop from such collections only for weddings, festivals, and parties.
The right fabric to keep you breathing
No matter how much money we are putting in buying a dress, as a customer we will always expect high-quality fabric that doesn't fade, wrinkles, shrinks or gets worn-out easily.
Type of fabric can really make a difference in terms of how comfortable you are in what you are wearing. Abaya isn't just limited to one corner of the world but is worn by Muslim women in every nation. You should keep the local climate of your region and the season for which you are buying your Abaya in mind. Generally, cotton Abaya is one of the most popular Abayas suitable for all weather conditions however, there are various types of fabrics you can choose from.
1. Cotton Abayas
They are perfect for everyday wear as cotton abaya doesn't require careful maintenance. They can be designed in various cuts, shapes or styles and can be even pretty much detailed in terms of craftsmanship. The best thing about cotton is that it almost suits every type of skin. It keeps you breathing and at ease even in the most humid days of summers.
2. Nida Abayas
Nida is a light fabric that is pure polyester and hence it's smooth and soft touch is praised over and over again. Abayas made using good quality Nida fabric gives assured comfort and quality in affordable price tags.
3. Rayon Abayas
Rayon fabric is good at absorbing sweat and body oil and therefore makes it a good choice if you sweat more during humid weather conditions. It is a combination of natural and synthetic fiber and you can wear a Rayon Abaya all day long without being at discomfort.
4. Crepe Abayas
It is a thin fabric made using silk and other artificial or synthetic fabric. It can be blended with many other types of fabrics by designers to give a desired look and style to outfits. Even though it is thin as well as light, crepe is still a strong fabric and usually, they are not see-through. Good Abaya designers ensure to use high-quality fabric to keep the modesty of the outfit intact. Crepe abayas are wonderful for parties and weddings because of the rich look it has to offer but we strongly advise not to put it for machine wash.
5. Georgette Abayas
Georgette is another popular fabric choice you can make for buying abayas. It is a silk-like fabric with a texture similar to crepe. It is slightly opaque hence you will mostly find Georgette Abayas stitched with mixed fabric. You should handwash such fabric. They may even shrink a bit so remember this while selecting size. You can buy Georgette Abaya for casual and daily wear needs because it requires less care and comes in all styles and designs.
6. Kashibo Abayas
It is one of the fabrics that require really less care. In terms of look, it pretty well resembles silk, crepe, satin or chiffon to mimic the rich texture. Kashibo Abayas won't shrink or expand to lose the actual fit therefore, they are a must-have for your casual wear, daily wear or as your outing dress. 
7. Jersey Abaya
If you are looking for an abaya that you can use without worrying much about getting the fabric wrinkled, Jersey abaya is what you need. It is a wrinkle-free fabric that requires no ironing. Besides it is soft on the skin and stretchable, you can select any from the variety of styles to suit the occasion like prayer, casual events, wedding, etc.
8. Viscose Abaya
Viscose fabric has many reasons to be popular and among that, sweat absorption capacity, non-allergic properties, antistatic, soft, etc. are few to make Viscose Abayas one of the best to pick. The fabric itself is made from the wood pulp of trees but is still durable and lighter than cotton. Viscose abayas are good for daily wear, work outfit, parties, prayers or other casual occasions.
9. Denim/Jeans Abaya
Call it Denim or Jeans, they are known for its rough and tough texture, durability, and style. Denim/Jeans Abayas are easy to maintain and if you want to adorn them for your casual wear, you will be happy to know that it won't require much care like ironing, etc. You can wear them in winters as they are best suited for cold climate however, you can choose to wear it anytime for a casual appearance.
10. Net Abayas
Netted Abayas are widely used for parties, weddings, and other special occasions on which you want to look marvellous. It has a special rich appearance and with little embellishments or embroidery, it adds that special glow and aura in your personality.
All aforesaid fabrics are among the most popular fabric types to select from as they offer numerous styles, design and comfort options. You will find most of the shades available that you can imagine and many would even match your personality.
Abaya Color Guide and how to Pick a matching Hijab?
Matching hijab and shoes add more glam to your style and therefore in this part of the guide, we are discussing colors and matching Hijab for your perfect abaya.
Designers recommend to always go for a flattering color that also complements your skin tone. You may have bought an Abaya in vibrant color, interesting prints or patterns to stand-out in the crowd but, there is a possibility of a mismatch. We aren't telling you to stick to the basic traditional colors like black however, try neutral shades such as latte, mocha or other darker shades like marina blue etc. Usual feminine shades like dusty rose, shades of pink etc. that soothe eyes are wonderful too.
Matching hijab color (styles) based on the color of your Abaya
A solid color Abaya can be matched with a solid color Hijab too but for a better style, try picking a shade that has a good contrast over the dress itself. You can also match a printed hijab with a solid color abaya or vice-versa however, matching color contrast is recommended. Example, a solid red color Hijab with a pink, floral abaya.
Please make sure the patterns or prints are not overwhelming especially in your Hijab for a perfect style.
Cart Checkout
Once you have selected the Abaya of your choice, checked its size and length to your satisfaction, the next step is to move that Abaya in your shopping cart. You can quickly checkout if you are already registered on the website and have provided your address and other details. Check for the final time if everything looks alright in your cart. Move on to select any shipping preference like express or standard delivery options. On the next step, it should offer a secure and seamless payment option for you to let you use a debit/credit card or internet banking.
At the final stage, after you have done the payment, you should see your invoice and shipment tracking details.
Hassle-free Abaya Shopping!
The secret of a perfect outfit is all about feeling good and comfortable wearing it. Abaya is a part of daily life for many women and buying a perfect Abaya is not a challenge anymore if you keep the aforesaid factors in mind. Landing on the right website can be initially difficult and therefore we recommend you to check huge categories of Abaya that mybatua.com has to offer. No matter where you reside in this world, it ships high-quality authentic Islamic Fashion outfits at your doorstep without having you to go through the struggle.
Retail stores offer you the convenience of trial before buying but unfortunately, they don't have most of the latest designs and patterns. Lack of time is another concern that makes us switch to online shopping but many seem lost when they search for websites to buy Abayas conveniently. If you liked this insightful guide and you think it is going to make your next abaya buying experience hassle-free, please save or share this article so that you can refer back in the future.
Reviews (5 comments) Collection 2019 Sale 70% Off Title for image