Fashion Tips for Hijab-Wearing Women
Posted by AYESHA KHAN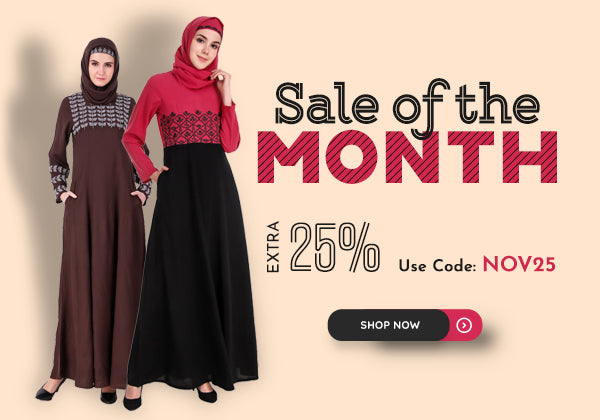 Fashion trends are always dynamic. Few constantly change and few remain constant. Hijab's popularity reached across the globe in a way that even non-Islamic women started considering the hijab as a part of their fashion wardrobe. Many have realized the benefits of wearing a hijab and have shown their interest in wearing them. The Hijabs which are used to protect the modesty of women have also got in to blend with the latest trends and have turned into one of the popular classy styles in the world.
Wearing a hijab not only protects your modesty but also adds charm and elegance to your look. There are varied styles to wear a hijab, all you need to do it just match or coordinate with the colors of your outfit. Hijabs can be worn on any apparel, right from elegantly embroidered grandeur shararas to jumpsuits and polka dot dresses. Just spend some time to choose which style of hijab suits your outfit the best. Do not worry about the styles now as we are here to suggest you some latest trending styles to wear hijabs.
Before getting on to different style statements, we recommend you to keep the following points your priority:
Always set your hair before wearing a hijab to have a good grip. Use hairpins as per your comfort else the hijab loosens over your head and your hair can also get messy or tangled.
Wearing a hijab cap is a best practice to tighten the grip on your head. This is useful especially for a day filled with strenuous activities.
Try choosing a soft fabric as they not only look appealing but also helps protect your hair from being damaged. For example, you can choose fabrics like linen, chiffon or silk.
Use safety pins to bind or wrap your hijab but don't overdo them as it could prick you later on.
Ensure you choose the hijab style according to your facial shape. Avoid wearing loose hijabs for those having a small face and do not wear it too tightly for those having large or round face shape.
Do keep the above tips in mind the next time you are wearing a hijab to ensure it isn't clumsy and hassle-free. Let's look at some of the exciting styles to wear a hijab on your varied outfits that make you look classy, elegant, and as well as fashionable.
Style tip 1: Neutral shaded hijab
Wear a neutral or nude shaded hijab when you wear jeans and a suitable top. High-waist jeans would be preferable along with boots too add on the sophisticated look. This style best suits when you are on an outing, especially road trips.
Style tip 2: The sassy workwear
Dorn on your trousers with a suitable bell-sleeved or a bishop sleeved top along with a silk hijab wrapped smoothly. This look is perfect to outshine others and make you stand out.
Style tip 3: Get the bow look
Bows are the ever time fairy look for the girls. Why not blend it with the hijab? Winters are the perfect season for this style. Wear a plain hijab color-blocked with a matching sweater. Take a printed scarf and wrap around your neck in the form of a bow. If not scarf, you can just use the loose ends of your hijab to create a cute mini bow. This not just adds on to your looks, but helps you keep warm and holds your hijab in place during strong winds.
Style tip 4: Summer chic looks
Be it palazzos or the cute summer dresses, style your hijab with strappy sandals, sunglasses, and totes to make your shopping look stylish and trending.
Style tip 5: Winter princess look
Want to keep yourself warm and stylish like a winter princess at the same time? Wear a nude-colored hijab along with your woollen beanie or winter caps together to make you look fantastic and keep you warm and happy at the same time. You will not just feel cozy, but you happily hop into the snow to play and enjoy.
Style tip 6: The Old School Style
Missing your hairbands lying in your vanity box. Worry not, match up your colorful hairbands with a suitable hijab. You can wear it upon your hijab pairing it up with some western clothes like jeans jacket etc. You can even try a mix match like solid plain hijabs and printed headbands. This is a cool look when you are planning to go on an adventure or trip.
Style tip 7: Muffle Duffle
Elegance leaves no mark behind. Wear your mufflers along with hijab during those chilly days, it just makes you look classier and more elegant. Wear it on a long coat or a long full-sleeved dress, up to your choice.
Style tip 8: The Duppata style
Wearing a salwar kameez or suit and worried about managing hijab and dupatta at the same time? Worry not. Keep the hijab aside, wear the head cap and wrap the dupatta like a hijab over your head making it flow at the ends just like how dupatta flows. This style definitely adds on to your charm.
Style tip 9: Go Desi Indo style
Bored of the regular styles of hijab, then try the Indo desi turban style of hijab. Wear your hijab in the turban style on your long dresses or coats. It will make you look out of the box and certainly smashing too.
Style tip 10: The flowing glowing look
Wear a high waist long skirt with a beautiful printed or embroidered top, having full sleeves preferably. Add on a matching printed hijab that blends in with your skirt. This look is just splendid for casual outings and evening dining.
Style tip 11: The royal party look
Put on your fancy evening gown or party wear along with a silk and glitter embroidered hijab to enhance your royal look. You can also add a brooch on your solid plain silk hijab to highlight it. This enhances the royal style statement of yours.
Style tip 12: Funky Teen look
Jeans, cute tees, stylish jackets, sneakers, and hijab. This youngster look is suitable to make your casual parties happening. Be it to head on to a café or movies, this look is comfortable and stylish.
With these above style tips, you can cheer up your style statements and enhance your charm. They are trending and yet classy, protecting your modesty perfectly. You can create your own style statement too, just dig in your wardrobe and bring in your creativity. If you have tried any of the mentioned style tips and have helped you, tell us about your experience in the comments below. Next time when you want to dress up out of the blue, remember these small tricks and tips to look elegant and glamorous. Collection 2019 Sale 70% Off Title for image